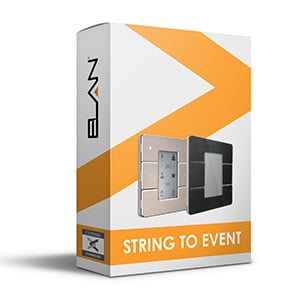 String to Event Driver for ELAN
What does this driver do? This driver allows an Elan system to listen on a specified port for commands received from other devices i.e. string commands from Philips Dynalite.
Features:
Searches received data packets for string text that have been set in the driver and then fires an event map trigger.
Use case: Having a Dynalite keypad setup to start a music player in a room. The Dynalite system is setup to send "Sonos play" and ELAN is configured to start the relevant Sonos playing on receipt of the command.
Easy Setup Want the easiest possible setup? Simply add a Remote Support option to your basket and we'll set everything up for you.
The Intrinsic Difference We pride ourselves in making the best drivers available and so we like to put that little extra into our creations to make us stand out from the crowd.  All of our drivers go through hours of lab testing and are extensively field tested in real world environments. In addition, our integration notes are all written by actual installers, making them much more meaningful. Our drivers are backed up with the most comprehensive support in the industry.
Support If it's your first time installing this driver or if you think there's a technical problem, all of our drivers are fully supported through Online Support System
Feedback Every driver is made by us in house in the UK. If you have any suggestions on new features or changes you would like to see in our driver, then please let us know.
Licence Only one licence is needed per ELAN controller and can run as many devices as required up to the limit supported by the ELAN platform.
Trackback URL https://intrinsicdev.com/downloads/string-event-driver-elan/trackback/